Chelsea Routhier
Creative Director
She/Her
Chelsea has experience in both the fine art and graphic design worlds. While studying fine art at Johnson State, she discovered the illustration and graphic design program at Northern Vermont University. Seeing more opportunity she shifted her focus toward those media.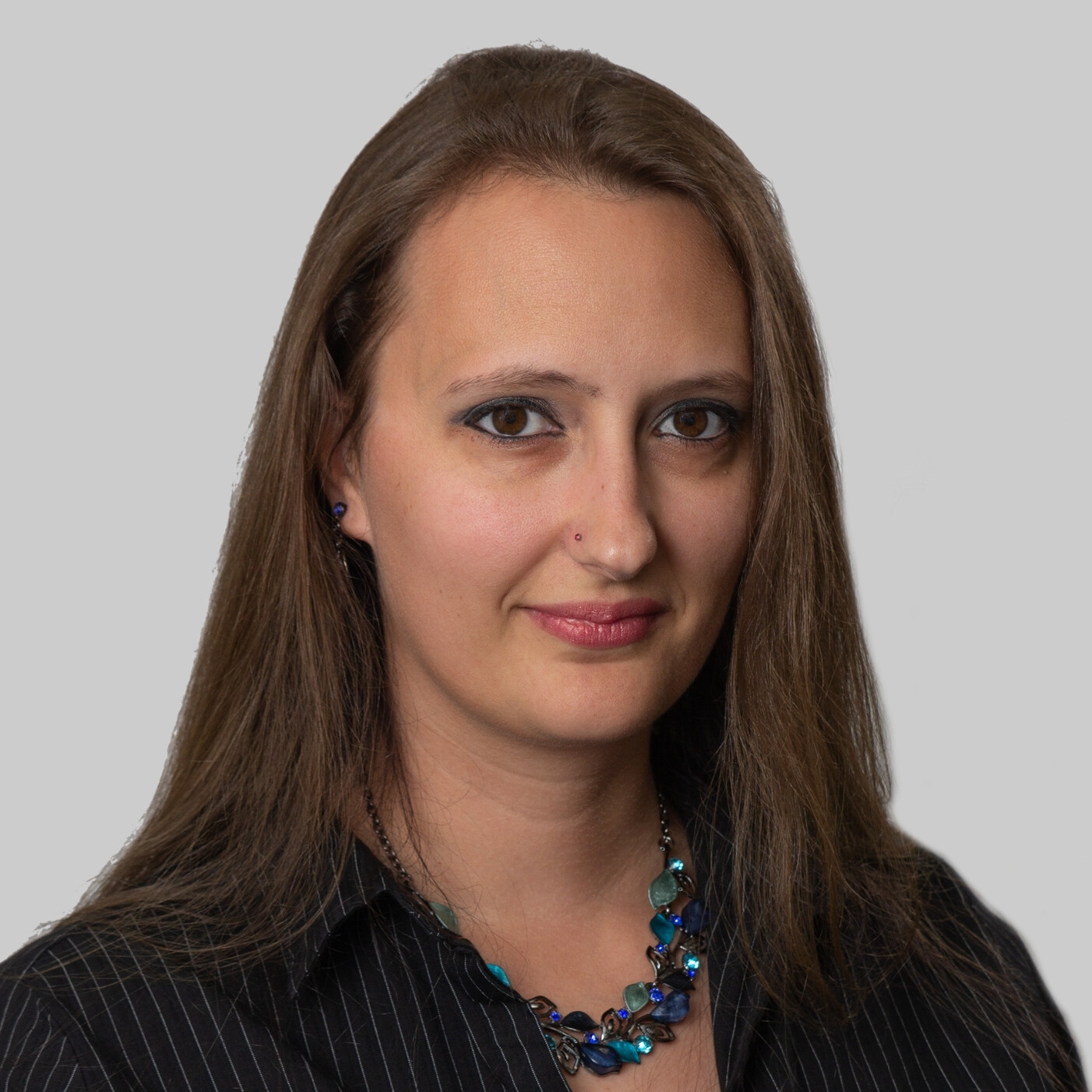 In 2010, Chelsea graduated with a BA in Graphic Design with a Concentration in Illustration from Northern Vermont University.
While at school, Chelsea worked with non-profit groups in the NEK, as well as the school itself, designing and illustrating for upcoming events. Shortly after graduation she took an Internship at WellWed/VT Vows Magazine in Winooski VT where she gained experience creating magazine advertisements for Vermont and New England businesses.
Wanting to stay in Vermont and pursue a design career, Chelsea stumbled upon CW Creative. "It was by chance really. I was visiting a friend in Barre, walking down the street, trying to figure out what the next step in my life was going to be, when I glanced up at the tiniest 'help wanted' sign I had ever come across. I had applied a few times previously, but thought, you know what, why not try one more time, I have nothing to lose." In 2012, she was hired as our graphic designer.
Since starting work at CW Creative, Chelsea has broadened her design expertise to now include business cards, catalogs, book layout, yard signs and much more. She continues to explore all the areas of design, including the occasional informational video production.
On her downtime, Chelsea works on independent art projects. "My style is as diverse as the mediums I use. I do a lot of ink drawings, but dabble in color pencil on occasion. I just draw what inspires me at the time, and most of the time that includes mixing darker and lighter subject matters. Working at CW Creative has given me the opportunity to expand my artwork beyond just pencil to paper. The ability to work and produce on my own print projects, from start to finish, has increased both my knowledge and understanding, from a clients' and printers' perspective."
In 2017, Chelsea drew and self-published her ABC animal skull book through CW Creative. The book went on to win the 2019 PINE Awards of Excellence—Pinnacle Award - Division 1 Art Books, which is the best in the art book category for small print shops.
She also submitted her Sad Food illustrated calendar which won the 2019 PINE Award of Recognition for calendar category.
Copies of the book, as well as her greeting card collection, can be purchased through CW Creative.
*NEW* You can now purchase Chelsea's artwork on t-shirts, tote bags, scarfs and more! Check out her store on RedBubble.
More about Chelsea and her artwork:
IG: @theartistrator & @dailyartistrator
FB: CMRouthier art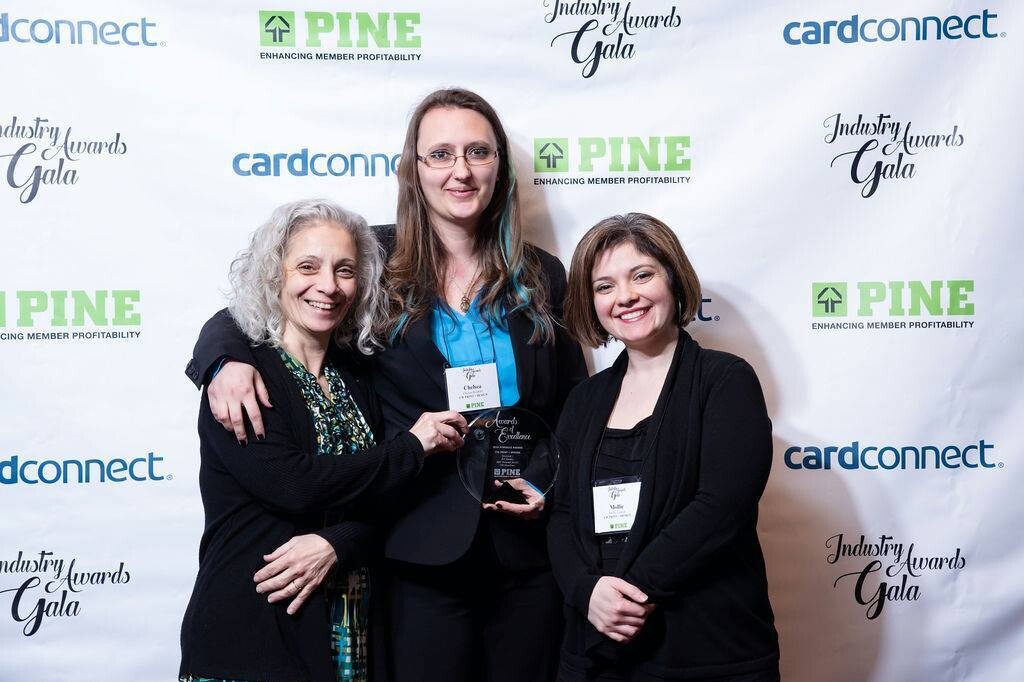 Linda, Chelsea, and Mollie at the 2019 PINE Awards of Excellence.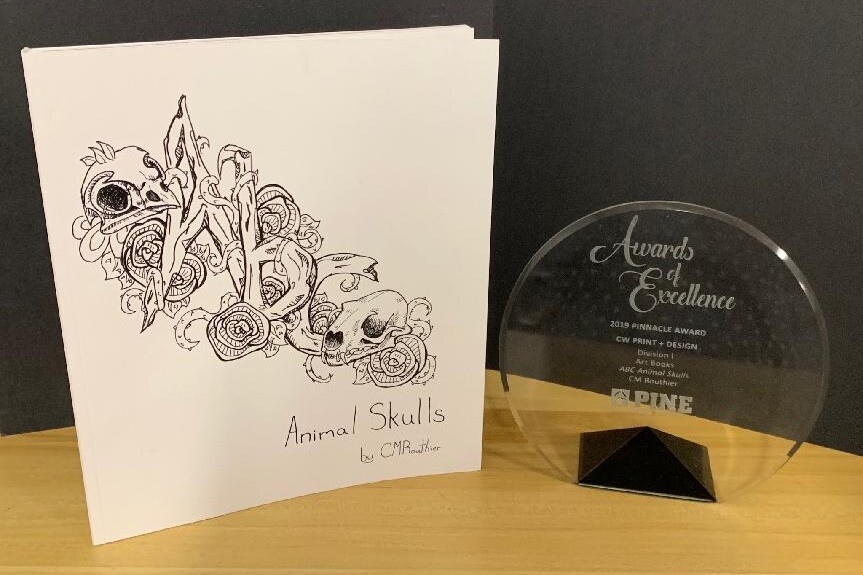 ABC Animal Skulls, 2019 PINE Awards of Excellence—Pinnacle Award - Division 1 Art Books