What Happened to Summer? Back-to-School Marketing Starts Earlier Than Ever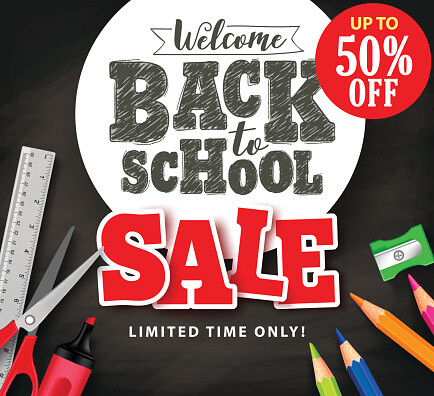 The temperature is soaring, steaks sizzle on the grill, and kids play in the pool, but not everyone is thinking summer. Back to school season is starting earlier than ever for big retailers and the impact trickles over into all aspects of marketing. Both Office Depot and Land's End launch back to school campaigns at the start of summer – in some cases before school even ended in some parts of the country.
This is a change even from last year; according to AdAge, 2016 saw back to school marketing head into full swing around the middle of July. Time magazine cites the need for retailers to make as many revenues as possible during the highest spending periods as the reason Black Friday, Halloween, and Back to School promotions are being scheduled earlier than ever before.
When does Back to School Begin?
Big retailers working on the premise that earlier is better have begun pushing back-to-school marketing back each year. Back to school is big business for retailers, since it is worth about 78 billion; it is second only to the major holidays for revenues, according to AdAge.
How Early is Too Early?
Office Depot's back-to-school advertising rolled out June 25 of this year, a full three weeks earlier than 2016's July launch. Other retailers are following suit, but there is some consumer backlash against the early push. Lands' End received public criticism on social media when their back-to-school catalog dropped while kids in many parts of the country were still in school.
"We got your #backtoschool catalog in the mail. Our kids still have two weeks of school left this year! #fail #marketing," tweeted Greg Magin.
@GregMagin helpfully tagged his rant with #fail, #backtoschool and #Marketing, so it was seen by far more than just his followers. This backlash from consumers shows that a too-early launch can backfire. Right now, the sweet spot for back-to-school marketing seems to be right after the 4th of July through the end of the month.
Back-to-school marketing is all about timing. Being aware of this pitfall, and of the enormous potential of this busy season, can help you make the most of Back to School season for your brand and ensure your organization has a visible presence during this often overlooked marketing opportunity.
Make Back to School Time Count for your Brand
Positioning your Back to School promotions in July and working to build not only sales but also awareness can help place you in front of consumers when they're ready to outfit the kids for the next school year. Since most consumers begin searching online well before they part with actual money, building awareness ahead of this busy season can help you get the results you want without irritating consumers.
Shop Local for Back to School
CW Print + Design is stocked with all of your favorite necessities for back to school, and our sale kicks off after the Barre Heritage Festival, be sure to stop in on Monday July 31st and get all of your back to school essentials and support the shop local movement.
For questions or special orders, please contact us.