Introducing NEW metal NFC business cards!
Business cards are one of the quickest, most efficient way to network, but the sheer number of standard business cards one sees at an event can make even the most attractive of standard cards get lost in the shuffle. To really stand out, you need something truly unique which is why we're introducing a new product line of metal NFC-enabled business cards!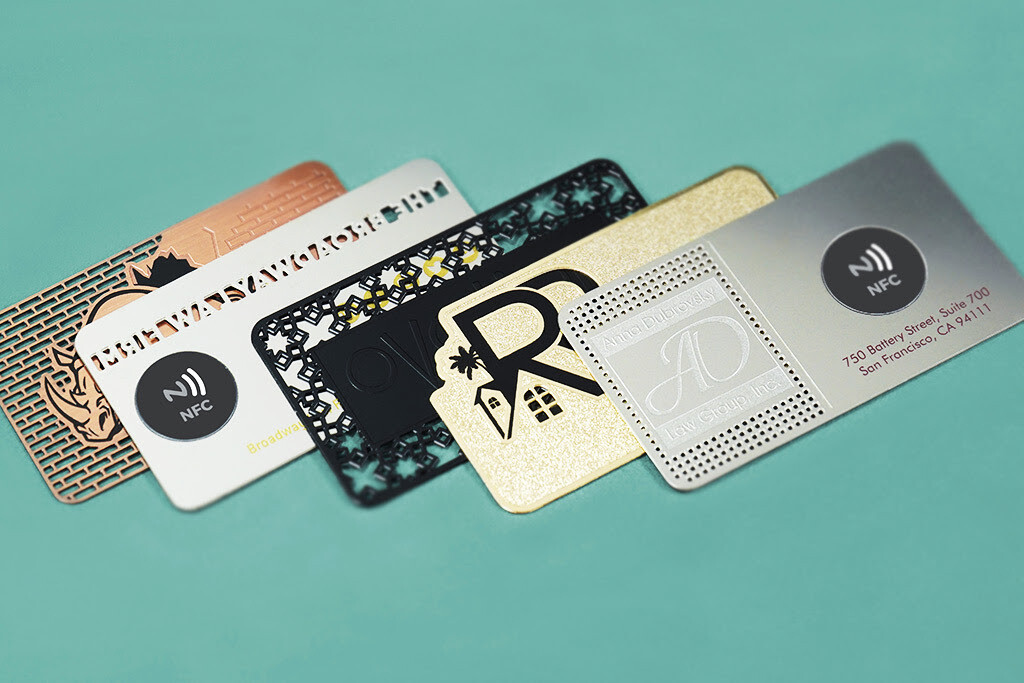 These cards are made from .8mm stainless steel (roughly the same thickness as a standard credit card), fit in business card holders (final size: 3.46x1.96"), and include an NFC 215 chip attached (more on that later), free NFC chip encoding, any custom cutouts or shapes you might desire, surface etching (both front and back) and individual protective plastic sleeves.
These cards are designed to impress through custom cutouts and sleek stainless steel and have the added bonus of being functional by driving potential partners and clients to a custom website, contact card, or other pre-programmed link.
Here are answers to some commonly asked questions around NFC chips:
How does NFC work? NFC chips enable the transfer of small amounts of data between two devices. Both device and chip must be close to each other to work.
What phones can scan NFC chips? Almost all recent smartphones (post 2016) are NFC-scanning capable. For most Android phones, NFC chips can be tapped at the back of the device. For Apple iPhones and iPads, chips can be scanned near the top of the device.
What can be programmed onto an NFC chip, and they be re-written later? NFC chips carry a small amount of data - URLs to websites are the most common. The NFC 215 chip has a data limit of roughly 200 characters and there is an easy to use, free app called "NFC Tools" that can re-write chips as needed.
Metal business cards by themselves are show-stoppers but adding NFC capability is a real game changer. Step up your networking game with a truly unique business card! Still have questions or ready to design? Contact us to get started today!