4 Creative Holiday Uses for Business Cards
The holiday season is here, and you probably have a long checklist:
But, have you considered adding business cards your checklist?
I know, the mighty business card might seem like an everyday item - it's considered a business essential for a reason - however, because there are such a wide variety of stock and print options, this small size is ideal for additional marketing during the holidays. You just have to get a little creative! Read on for our top 4 suggestions for using business cards during the holidays.
#1: Coupons
Holiday sales and special offers are a must during this season, and a business card is a colorful way to make your coupons stand out. They can be sent alongside invoices, put out on the counter at a partners storefront, used as bag stuffers, or stacked by the register.
#2: Drink Tickets
Are you hosting an event this holiday season? Whether you are celebrating the holidays with employees, hosting a New Year's Eve bash, or throwing a fundraiser for a good cause, drink tickets are a great add-on element to the evening. Business cards are ideal for this because they are pocket-sized, and easy to personalize to match any event theme.
#3: Gift Tags
Are you giving a gift to a top client or employee? A business card sized gift tag is an easy way to brand your business gifts. They can be taped right to the gift wrap, or add a hole punch and tie it on. Gift tags can be designed and printed to match your corporate branding. We can even customize them with variable data so each tag is unique for each recipient.
#4: Event Favors / Easy-to-Distribute Gifts
Turn your business card into a a gift by having magnetic business cards created. Clients will keep this for the weeks and months to come so your contact information is always easily accessible. Magnetic business cards do not add a lot of weight, so you can include these gifts in your holiday cards to your clients.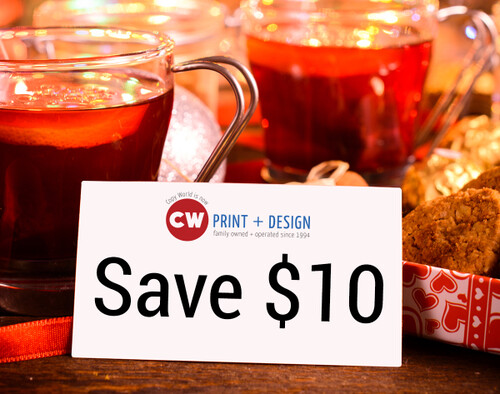 What creative ways can you think of to use business cards this holiday season? To help spark your creativity, we are offering $10 off any business card order of $100 or more. Just place your order by December 24, 2018 and mention this special.